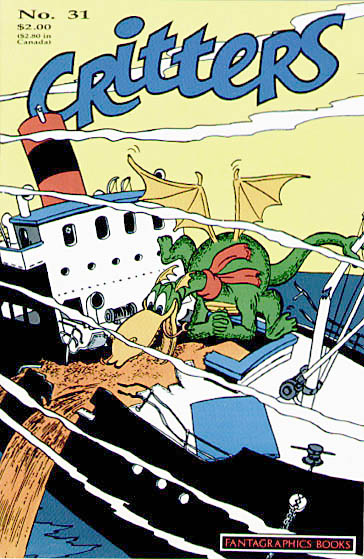 These seven pages of "Gnuff"
are the only pages to be presented in english in color...
They were printed in 1989 by Fantagraphics in a 48 pages
"Usagi Yojimbo color special" # 1 and comprisd
the concluding part of a 48 page album story
that originally starred Woody Woodpecker...

Since these rights were heavily tied up with
expensive merchandising, however, I redid it with the Gnuffs,
so it could participate in a double album venture,
in which the Gnuffs were already featured in half of the story...
the entire story was later published with the Gnuffs,
but in the monthly installments in the co-produced versions of
the Woody Woodpecker magazine between 1982 and 1985,
I featured The Gnuffs and the Woodpeckers in alternating chapters...
My goal was to tell a story of intrigue in the city,
in which the two sets of characters lived separately and never met,
yet were involved in the same overall plot...

In this case, the Woodpeckers had a story centered around
the cleaning up in the park where an old historical play
was to be held, with the kids writing that play,
while in that same park the Gnuffs were trying to preserve
the ruins of an old castle that was threatened
by the city's fat cat, Bossman, who wanted
to expand his pillow factory there...
In the revised version the small dragon is always
accompanied by his loyal best friend in the places
where Knothead and Splinter used to be...