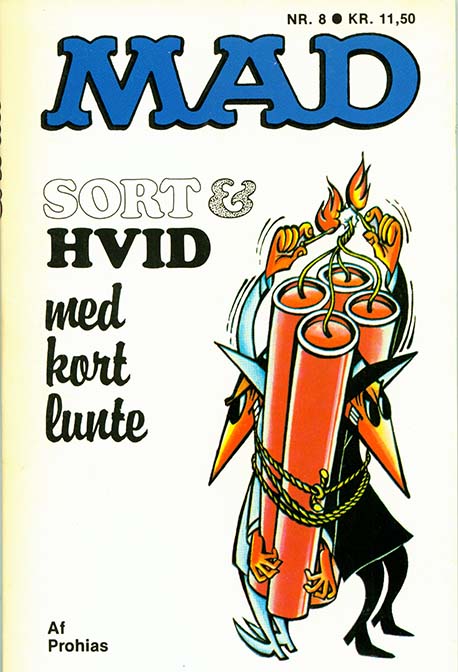 SPY VS. SPY
ANTONIO PROHÍAS
Antonio Prohías (January 17, 1921 – February 24, 1998), born in Cienfuegos, Cuba, was a cartoonist most famous as the creator of the comic strip 'Spy vs. Spy' for Mad magazine.
In 1946, Prohías was given the Juan Gualberto Gómez award, recognizing him as the foremost cartoonist in Cuba. By the late 1940s, Prohías had begun working at 'El Mundo', the most important newspaper in Cuba at the time.
In January 1959, Prohías was the president of the Cuban Cartoonists Association; after Fidel Castro seized power, he personally honored the cartoonist for his anti-Batista political cartoons, but Prohías soon soured on Castro's actions of muzzling the press. When he drew cartoons to this effect, he was accused of working for the CIA by Fidel Castro's government. Consequently, he resigned from the newspaper in February 1959.
With his professional career in limbo, Prohías left Cuba for New York on May 1, 1960, working in a garment factory by day and building a cartoon portfolio for Mad by night. Ten weeks later, he walked into Mad's offices unannounced. He spoke no English, but his daughter Marta acted as an interpreter for him. Before he'd left, he had an $800 check and had sold his first three Spy vs. Spy cartoons to Mad. In late 1986, he sold his 241st and last Spy strip before retiring due to illness. Prohias also wrote and drew six paperback collections featuring the Spys. During an interview with the 'Miami Herald' in 1983, Prohías gloated, 'The sweetest revenge has been to turn Fidel's accusation of me as a spy into a moneymaking venture'.
Two years after Prohias' debut in the magazine, cartoonist Sergio Aragonéz made the trek from Mexico to New York in search of work. Because Aragonés' command of English was then shaky, he asked that Prohias be present to serve as an interpreter. According to Aragonés, this proved to be a mistake, since Prohías knew even less English than he did. When Prohías introduced the young artist to the Mad editors as 'Sergio, my brother from Mexico', the Mad editors thought they were meeting 'Sergio Prohías'. Twelve years later, Mad writer Frank Jacobs reported that Prohias' conversational English was limited to 'Hello' and 'How are you, brother?' Said Aragonés, who speaks six languages, 'Even I could not understand him that well'.
The Mad staff occasionally took group vacations, traveling together to other countries. Prohías took part in these vacations when possible, but as a Cuban exile, he had trouble gaining admission into some countries and at the airport before a vacation to Italy, an airport official said, 'You can leave if you want, but you can never come back'. After the group returned, he presented a drawing to Mad publisher William M. Gaines, which was of him, with the Spies at his feet, letting his heart fly over the angry airport officials to the rest of the Mad gang, with a note at the bottom which, when translated, reads 'Mr. Gaines, my heart will always travel with you'.
Although he is most famous for 'Spy vs. Spy', the majority of his comic strips, such as 'El Hombre Siniestro', 'La Mujer Siniestra', and 'Tovarich', were published mostly or only in Cuba. Altogether, only about 20 of his roughly 270 contributions to Mad were of anything other than the spy series. As a result, most of the available information on this other work comes from the 'Spy Vs Spy Complete Casebook' (Watson-Guptill, 2001) and the 'Spy vs. Spy Omnibus' (DC Comics, 2011).
Prohías died of lung cancer at age of 77 and is buried in Woodlawn Park Cemetery and Mausoleum.