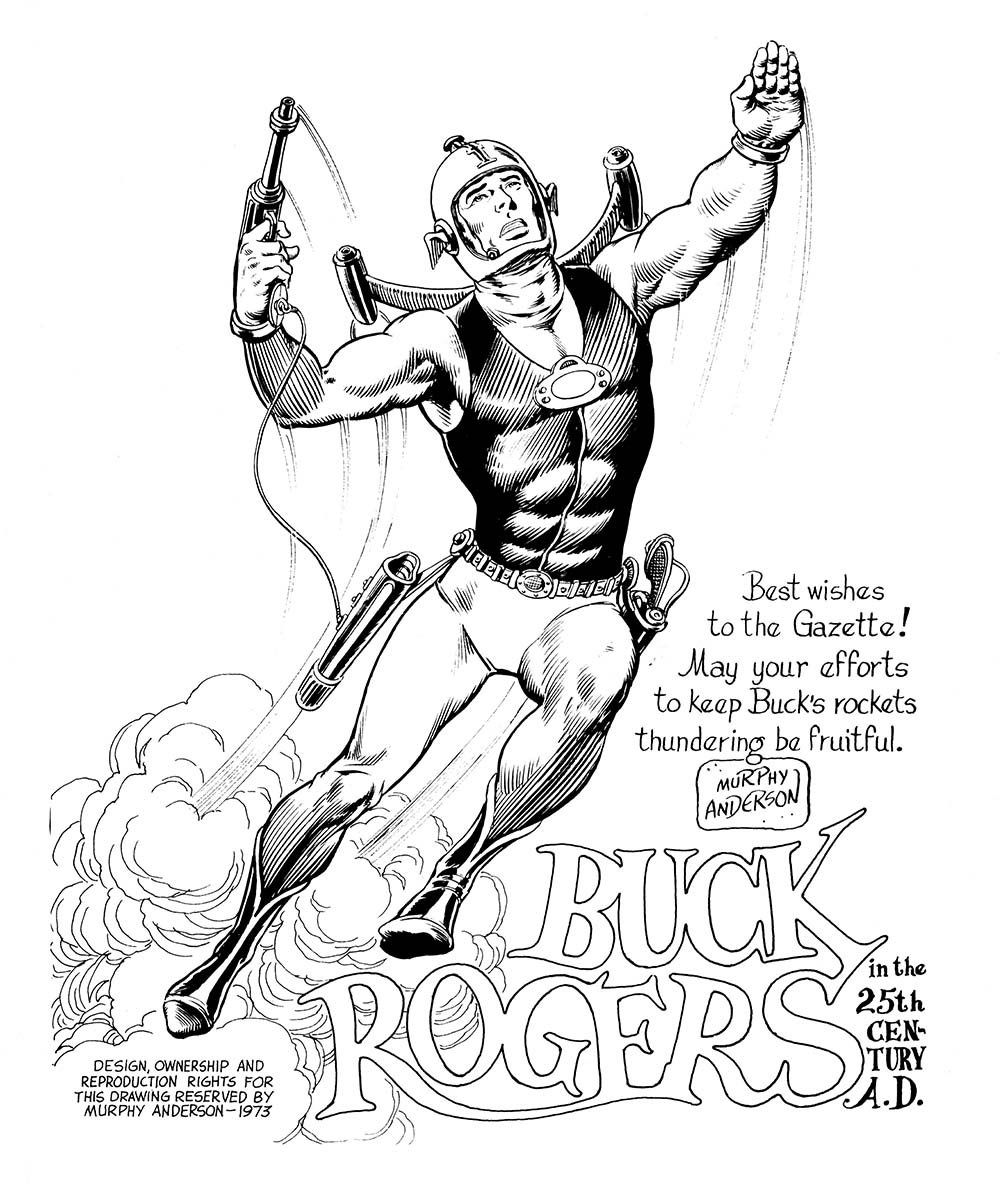 PHILIP NOWLAN
Philip Francis Nowlan (13. november 1888 – 1. februar 1940) var født i Philadelphia, Pennsylvania.
Mens han gik på University of Pennsylvania var Nowlan medlem af The Mask and Wig Club hvor han havde betydelige teaterroller i de årlige produktioner mellem 1907 og 1909. Efter eksamen fra University of Pennsylvania arbejdede han som avis klummeskribent. Nowlan var gift med Theresa Junker. De havde ti børn: Philip, Mary, Helen, Louise, Theresa, Mike, Larry, Pat, John, og Joe.
Nowlan flyttede til Philadelphia-forstaden Bala Cynwyd og skabte og skrev Buck Rogers tegneserien, illustreret af Dick Calkins. Han forblev forfatter på strip indtil 1939. Buck Rogers optrådte første gang i Nowlans 1928 novelle Armageddon 2419 e. Kr. som Anthony Rogers. Tegneserien løb i over fyrre år og skabte en radio serie, en 1939 filmserie, og to tv-serier.
Nowlan skrev også flere andre noveller for science fiction-magasiner samt det posthumt udgivne mysterium, The Girl fra Nowhere.
DICK CALKINS
Dick Calkins (1895 – 12. maj, 1962), der ofte underskrev sit arbejde Lt. Dick Calkins, er en amerikansk tegneserietegner, der er bedst kendt for at være den første tegner til at tegne Buck Rogers tegneserien. Han skrev også til Buck Rogers radioprogrammet.
Calkins virkede som tegner på denne serie fra januar 1929 til november 1947. Buck Rogers er undertiden krediteret som værende den første science fiction tegneserie.
Født i Grand Rapids, Michigan, blev Calkins uddannet fra Chicago Art Institute. Hans første job var tegnearbejde for Detroit Free Press. Under Første Verdenskrig tjente Calkins i Army Air Service som pilot og flyveinstruktør. Han arbejdede som redaktionel tegner for The Chicago American indtil 1929, det år hvor han begyndte at tegne Buck Rogers.
Calkins døde i en alder af 67 i Tucson, Arizona den 13. maj 1962.
MURPHY ANDERSON
Murphy Anderson was born on July 9, 1926, in Asheville, North Carolina, and while in grade school moved with his family to Greensboro, North Carolina. After graduating high school in 1943, he briefly attended the University of North Carolina before moving to New York City seeking work in the comics industry, and was hired by Jack Byrne as a staff artist at the comic-book publisher Fiction House. His first confirmed credit is the 2 2/3-page nonfiction aviation featurette 'Jet Propulsion' in Wings Comics #48, Aug. 1944, and his first fiction feature was an eight-page 'Suicide Smith and the Air Commanders' story in Wings Comics #50, Oct. 1944. By the following month he was the regular artist on the Planet Comics features 'Life on Other Worlds' and 'Star Pirate'. Anderson continued doing comics work, as well as illustrations for science-fiction pulp magazines, during his stateside postings while serving in the United States Navy from 1944 to 1945.
From 1947 to 1949, Anderson was the artist on the Buck Rogers comic-book series. During the 1950s, Anderson worked for several publishers including Pines Comics, St. John Publications, Ziff Davis, DC Comics, and Atlas Comics, that decade's predecessor of Marvel Comics.
Anderson succeeded artist and co-creator Carmine Infantino on the superhero feature 'Captain Comet' beginning with the story 'The Girl from the Diamond Planet' in Strange Adventures #12, Sept. 1951). Years later, Anderson and writer John Broome created the feature 'Atomic Knights' in Strange Adventures #117, June 1960), which Anderson later described as his favorite assignment. Anderson and writer Gardner Fox launched the Hawkman series in May 1964 and introduced the Zatanna character in issue #4, Nov. 1964). Comics historian Les Daniels noted that 'Hawkman really took off when artist Murphy Anderson took over... Anderson came into his own with his elegantly ornamental version of the Winged Wonder'. The Spectre was revived by Fox and Anderson in Showcase #60, Feb. 1966) and was given his own series in December 1967. In the 1960s Anderson proposed that comics pages be drawn at 10x15 inches rather than the prevailing standard of 12x18 inches, which allowed two pages to be photographed at the same time, and this subsequently became the industry standard.
Anderson designed the costume of Adam Strange. With his frequent collaborator, penciler Curt Swan, the pair's artwork on Superman and Action Comics in the 1970s came to be called 'Swanderson' by fans. He often hid his initials somewhere within the stories he inked. In the early 1970s, DC assigned Anderson, among other artists, to redraw the heads of Jack Kirby's renditions of Superman and Jimmy Olsen, fearing Kirby's versions were too different from the established images of the characters. In 1972, he drew Wonder Woman for the cover of the first issue of Ms. Magazine. In 1973, he established Murphy Anderson Visual Concepts, which provided color separations and lettering for comic books.
Anderson also contributed for many years to PS, the preventive maintenance comics magazine of the U.S. Army.
Anderson and his wife of 67 years, Helen, had two daughters, Sophie and Mary, and a son, Murphy III. Anderson died in Somerset, New Jersey on October 22, 2015, at the age of 89, of heart failure.