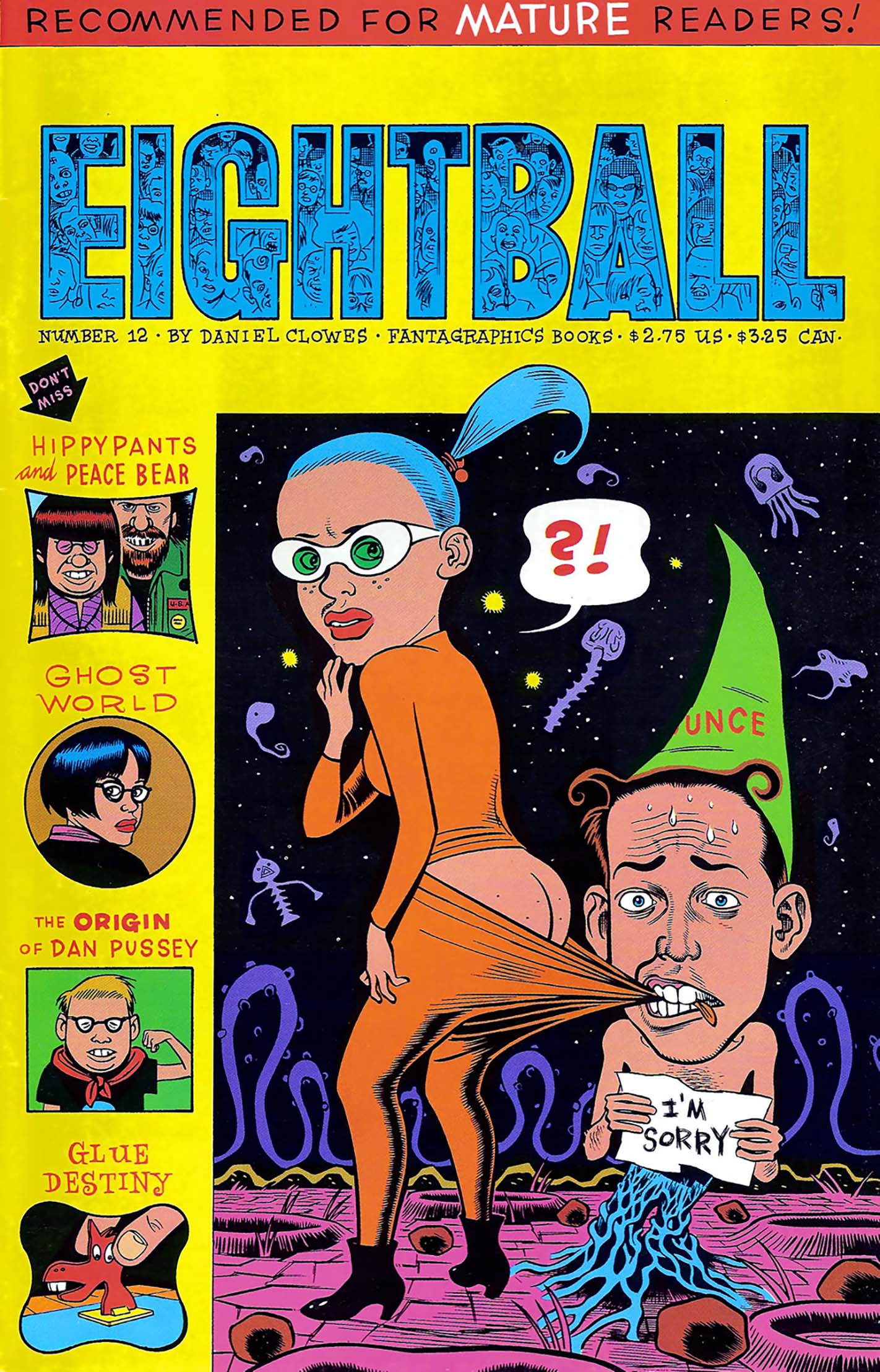 EIGHTBALL
DANIEL CLOWES
Daniel Clowes (b. 14 April 1961, USA) United States, is part of the second generation of American underground comix artists. Clowes was born in Chicago, and attended the Pratt Institute in Brooklyn, New York. He made his debut in the first issue of Psycho Comics in 1981, and throughout the decade, he has contributed to Look Mom Presents, Love & Rockets, Anything Goes, Doomsdag Squad, Twist, Judo Joe, Prime Cuts, Amazing Heroes, Village Voice, Weirdo, Young Lust and National Lampoon. He was a regular in Cracked magazine from 1985 to 1989 with features like The Uggly Family. Between April 1986 and December 1988, Clowes published his own Lloyd Llewellyn comic books with Fantagraphics, after having introduced the character in Love & Rockets in 1985.
In October of the following year, he came up with Eightball, in which he published most of his work from then on. This included short stories, starring characters like the frustrated comic artist Dan Pussey, but also serials like the nighmarish Like A Velvet Glove Cast In Iron, Ghost World and The Further Adventures of David Boring.
Fantagraphics has published most of the short stories that were serialized in 'Eigthball' in book collections like Orgy Bound (1996), Caricature (1998), Twentieth Century Eightball (2002). The Dan Pussey stories were collected in the comics novella Pussey!, a funny who's-who-in-U.S.-comix, featuring Art Spiegelman and Harvey Kurtzman.
A recurring theme in Clowes' work is the feeling of isolation in a world replete with erotic stimuli and consumer goods that haunts his main characters. The artist's mastery of bringing comic characters to life is such that his best-seller 'Ghost World' features two completely convincing teenage girls - no small feat for a male artist in his forties. In 2001, Clowes participated in MGM's cinema adaptation of this story about growing up by Terry Zwigoff. In 2006, 'Art School Confidential' was also adapted to film.
The theme of alienation is also evident in his highly praised graphic novel David Boring, that was collected in book format by Pantheon Books in 2000. Wilson is yet another story about a loner, that was released directly as a graphic novel by Drawn & Quarterly in 2010. This publisher also released his 2004 story The Death-Ray as a graphic novel in October 2011. After a prolonged health crisis and undergoing open-heart surgery in 2006, Clowes serialized his romance graphic novel Mister Wonderful in twenty installments in The New York Times between September 2007 and January 2008. A book collection was published by Pantheon Books in 2011.