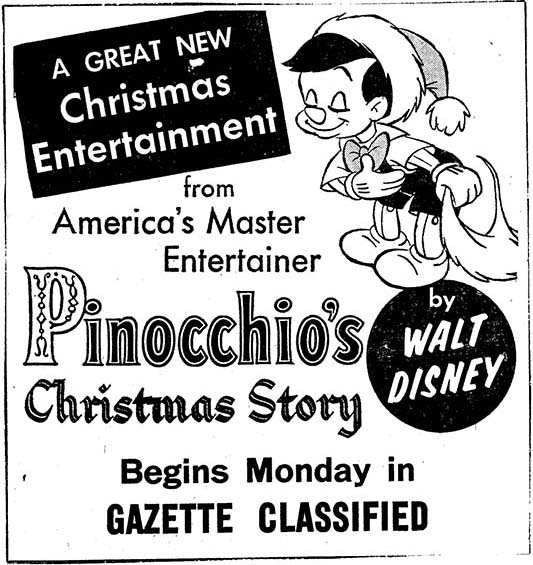 DISNEY NEWSPAPER CHRISTMAS STRIPS
In 1960, Frank Reilly, who had been in charge of the Disney newspaper strips since January 1946, started a new Disney comic strip that would appear daily in newspapers for the three and half weeks or so before Christmas. The strip would conclude on Christmas Eve Day just in time for the last panel to show Santa in his sleigh ready for his annual visit that night.
That first story was 'Peter Pan's Christmas Story' written by Reilly (who would write the Christmas strips until his retirement in 1975) with artwork by Manuel Gonzales. It began November 26 and ended December 24, 1960. Another 27 stories would follow from 1961 to 1987. The final Christmas comic strip in the series was 'Snow White's Sinister Christmas Gift' written by Carl Fallberg and drawn by Keith Moseley appearing in December 1987.
The Christmas adventures to help Santa included episodes with classic Disney characters. The many unusual combinations of characters were:
Pinocchio (1961), Sleeping Beauty (1962), Three Little Pigs (1963), Cinderella (1964), Bambi (1965), Snow White (1966), Dumbo (1967), Peter Pan, Captain Hook and all the Neverland folks (1968), the Seven Dwarfs along with the Sleeping Beauty fairies and Merlin (1969), Maleficient (1970), Gus/Jaq and the Beagle Boys (1971), Merlin and Mad Madam Mim (1972), Bambi (1973), the Seven Dwarfs, the Three Little Pigs, Pinocchio, Robin Hood, Merlin, Timothy Mouse and many more (1974), The Seven Dwarfs (1975), Captain Hook, Honest John, the Seven Dwarfs, Three Little Pigs, and more (1976), Gepetto and Peter Pan (1977), Dumbo, Prince John, Sheriff of Nottingham and more (1978), Merlin and Mad Madam Mim (1979), The Sleeping Beauty fairies and the Big Bad Wolf (1980), Cinderella and the Stepsisters (1981), The Dwarfs and Merlin (1982), Captain Hook (1983), Mr. Toad, Honest John Foulfellow (1984), Cruella De Vil (1985), Brer Rabbit, Brer Bear and Brer Fox (1986) and Snow White (1987).