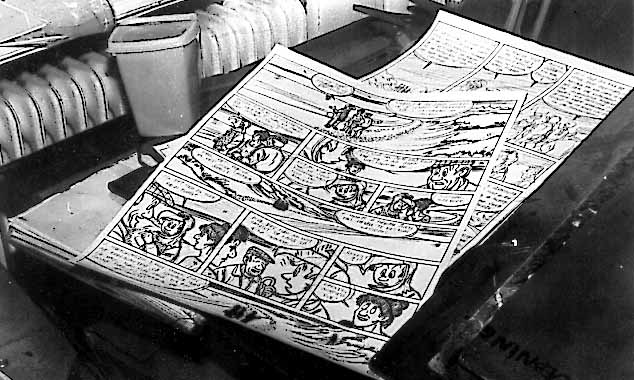 Pencilled pages from "Decalogue for the Jantelaw"
TØ: Your first professional comic was a syndicated realistic action newspaper strip from 1972 called Zenit. What happened to this early project?

FM: Willy Falkman from Bulls Press came to my door the day after my strip had taken over the place after Al Williamsons X9 Secret agent Corrigan in the big newspaper Jyllands Posten. He would like a contract on the syndication as well as an option on everything I would create in the future. I respectfully declined on the latter, but the attempt to distribute the strip failed as well. And since Jyllands Posten only paid me the measly sum they had paid for X9, I could not continue the series, so it lasted less than a year. But looking back I can see I learned a lot.

TØ: Was Zenit printed in other newspapers abroad or in magazines?

FM: Some episodes were printed in my own magazine, Sejd, and some in a short lived Danish comics monthly many years later. Now I'm presenting them one by one on my homepage, and the first long double-episode will be out there by my update in 2009. There is also on my site an episode I did in colour way back.

TØ: From 1974-1975 you had a different series called Hairlock Shomes. What was your experience with the stories by Sir Arthur Conan Doyle?

FM: My childhood reading included all of the short stories with Sherlock Holmes, and later I had affection for the films, where Basil Rathbone portrayed the shrewd detective. The idea was executed in the beginning with Magnus Knutsson as a scriptwriter, and we shared the same tongue in cheek relation to Conan Doyle's stories. It took place while I worked in Sundbyberg in Sweden at the Semic Press studio, and they were initially printed in the by-weekly Seriemagasinet. I recently found out that they had been published in Finland as well, but no one told me about that nor paid me for the reprints. The same can be said when later the bulk of them were presented in Denmark under the name of Sheerluck Homes. The two remaining old episodes will be presented at my homepage in 2009.

TØ: In the same period The family Gnuff was created, and that series became better known abroad. Was this series somehow influenced by Carl Barks?

FM: From you, that is a rhetorical question if ever I heard one! But for the record: Yes, childhood reading furnished the emotional background to try to create a continuation of stories done in his storytelling tradition, and I felt more at ease to do so with characters, where Barks had not put up standards never to be surpassed. So looking back it is safe to say, that on my own I accomplished better results with Woody Woodpecker and the Gnuffs. I have now a nice fully developed universe around the dragons due to the fact, that there are 18 albums made already - and none of them display a treasure hunt, mind you! I am beginning now to present them with English dialogue on my homepage, so that non-Scandinavians will be able to consume these stories in the future.

TØ: To duck-fans something revolutionary took place in the early 70'es. A fanzine called Carl Barks & Co was created. Where did the idea come from?

FM: I had read American fanzines, such as Funnyworld, where Mike Barrier gradually completed his Barks index. When that was done, I made a Danish version with some Swedish references as well. I wrote it on after hours at the Semic Press studio in Sundbyberg when working there. It was an instant success and was reprinted a number of times. Later I saw the need for more issues with articles and interviews on animation in comics and in films. The beginning of the 70'es was a period, where people found interest in forms of mass culture earlier to be disregarded, so there was a huge felt need on more information on popular mass media products. They even inspired to some left wing university studies, where many comics were pointed out as a capitalistic manifestation. That attitude later dwindled, but it was the reason for sharp political interest in the 70'es.

TØ: Carl Barks & Co was without doubt the most serious magazine on the duck interest in Scandinavia, probably in Europe as well. In issue 9 you even went into artists identification with an excessive index. Where did you get to know all this at this early stage?

FM: Primarily it came from US fans and fanzines. I think Cartoonist Profiles was the main source.

TØ: Already from issue 10 in 1978 there was a Danish index on US comics with artists identification! That was quick! Where did that kind of info come from?

FM: It was the faithful and thorough Martin Olsen who carried out the indexing at that time before the development of Inducks got under way, so he was responsible for that kind of research. Also he had a huge collection of the US comics on his own and a fine connection to fellow collectors.

TØ: In Carl Barks & Co issue 8 from 1977 you had an interview with Daan Jippes. Was that the beginning of the co-operation between the two of you?

FM: Almost. Our working together started the year before, but that interview was carried out in Viborg, where we did the 10-pager A clean case of Competence together. The article on that process is printed here under English Stuff and also in the Danish and Norwegian versions of The hall of Fame book containing our mutual contributions to the Duckburg universe.

TØ: How did you carry out your work? Was it in Denmark or in Holland?

FM: Apart from the episode mentioned above, the communication was carried out through the mail, where comments and drawings were sent back and forth several times. It was before the invention of E-mails and phone calls were expensive. In the meantime I was working on Woody Woodpecker.

TØ: How did you get into the world of Disney and how did you come to do your first Disney comic?

FM: The interest was nourished by many years of comics reading from my early age of childhood particularly of course the Barks stories, but eventually I developed the urge to contribute with some stuff of my own.
Before the Dutch connection gelled, I had some more or less futile contacts to Gutenberghus and Mondadori including some tragic misunderstanding concerning a long epic story initiated by myself, but that is water under the bridge now.

TØ: How much has that Dutch production amounted to over the years?

FM: Well, more that 500 pages I think, but most of it is run-of-the-mill short stories of little consequence. However there would be quality items enough for one more Hall of Fame book, if the chance should occur. In that case I will allow the duck version of The big Sneeze epic to be reprinted, which fans have requested. I am reluctant though, since it contains the origin story of one of my dragon characters and I have later included an extended version of that story in my Gnuff album series.

TØ: In the early 80'es you continued your work with the Gnuffs and albums with Woody Woodpecker were published. Was that your most productive period?

FM: My production has been more or less stable over the years, as you can see from the indexes on my work. I am a workaholic just like Barks and I experience a special kind of quality time when working with my comics, regardless of the way they are received or the monetary outcome of it. And that is an advantage these days where there is no financial motivation to make epic comics any longer in Scandinavia.

TØ: I am told the Gnuffs also made it over the pond. It is quite seldom for European comics to be accepted in the USA. So how did that happen?

FM: I had an early contact to editor and columnist Kim Thompson, who has partly Danish ancestors. He works at Fantagrahics in Seattle publishing the major American magazine on comics, The comics Journal. He contacted me when they planned to issue a funny animal monthly named Critters. Ingo and I even designed the logo. In that magazine he found room for some of the Gnuff stories from the Woody Woodpecker magazine as well as some other episodes made after the Woodpecker monthly seized publishing in the mid 80'es. The episodes published in Critters were translated by Dwight Decker, and he also did the American dialogue for The happy Water and The coming of the Blot now being presented on my homepage.

TØ: Have you worked with other Disney-artists than Daan Jippes?

FM: I know from the dutch office Ben Verhagen, Evert Geradtz and Jan Kruse, and then of course I have a very rewarding contact to the Danish Gorm Transgaard, who has taken the new name of Tarit now living in a alternative spiritual community in the rainforests of Costa Rica. Yet he makes very fine duck scripts, sometimes with an edge to them, and in the work I have done with him I have maintained the quality of the visuals from his elaborate scribbles, which no other artists has done. I take this as a prime reason for the eventual execution of a Hall of Fame book on the co-operative efforts of him and me. They could fill a volume that would stand out with our mutual personal touch intact and furthermore form an exclusively Scandinavian addition to the Hall of Fame book series.

TØ: Are there other artists than Carl Barks who have influenced your style of storytelling or drawing?

FM: When it comes to humanoid caricatures, I guess I have learned something from the Marcinelle School of comics with André Franquin as the figurehead. In the style of realism I was quite impressed by European album artists such as Hermann Huppen, Jean Giraud and William Vance without insisting, that they have influenced my own style very much. In the field of newspaper adventure strips it was mostly Al Williamson and John Burns, who influenced me. Speaking of epic newspaper comics, there was once a whole range of very fine daily strips that has now sadly disappeared. I worked on the rearranging of panels from these strips for the reprints in Swedish comics magazines at the Semic Press when I worked there, and I have a fine collection of these 100 page magazines from the 70'es containing fine contributions in art- and story.

TØ: During the 80'es your stories reflected more satire and social comments, such as Villiams Verden and the Dekalog-series. What was the reason for that?

FM: I felt the need to tell some stories, where the funny animal style did not seem quite useful. Apart from that I have always had an urge to express an opinion on contemporary matters. Now had I been writing literature or making films such ambitions might have been appreciated maybe even cherished, but in the world of comics it seems to be only broad comedy and simple action the public goes for…

TØ: Have you always been writing the scripts for your own comics?

FM: Almost, but I have illustrated a very fine old Danish mouse-tale from the mid 19th century, The mouse Book, by Karl Henrik With. He was a contemporary writer to Hans Christian Andersen and I continued that story with a mouse-album of my own on the descendants of these ancient mice from Rynkeby. I read that story as a child and was taken by the strong atmosphere in the presentation of these mouse characters.

TØ: Where do you get the ideas for your stories?

FM: Usually I come up with an idea or a theme that I think would work well in comics. Right now I am working on a which-way album, The M'umbo Jumbo Crisis, where six subsequent negative interactive choices will launch a terrorist action in subway of the capital city of a western country. The event triggering this suicide mission is a naïve drawing of a spiritual guru of foreign cult. The followers of that cult are very annoyed, so they want to carry out some heavy punishment on this decadent western country. Does this ring a bell? Well, if it does, I might not fare well making a straight one-lined realistic story out of it. But here the comics medium comes in handy offering the opportunity to handle this tricky subject with grace. Using funny animals and fairy tale symbolism combined with the multichoice network of different story developments I can haul this treatment into the clear without insulting anybody. So this is a good example where epic comics is the perfect and possibly only medium of expression to handle this questionable kind of story matter.
To day which-way albums is the forum, where I can use my comments upon contemporary social motives in a funny context. My album Sort Hul is dealing with the possible rise and fall of a music band, and I manage to combine most of the possible career choices in the interactive network for this volume. The advantage is, that you can jump from one crisis or conflict to the next without wasting much time and space in between, so it becomes a compact collection of climaxes!

TØ: All artists have their personal style. If you take over a strip from others, or if more artists work simultaneously with the same characters, they must appear to be the same. Du you have to work a long time to apply these abilities?

FM: I guess that would depend on the nature of your talent. A versatile talent such as Daan Jippes might adapt to a given style or design in no time at all and maybe even show a result that surpasses the predecessor in dynamics and expressiveness. A good thing he never became an art forger, because he would have been able to carry that out to perfection! To more ordinary craftsmen it takes a while to adopt to the characters created by others, and personally I am glad I got free hands to develop my version of Woody Woodpecker the way I did, because I was then able to carry out a better job on this project…

TØ: Have you experienced some extraordinary moments of sensation in your career that you would like to point out?

FM: There have indeed been striking moments, but I would like to mention a special one from the visit of Carl Barks during his Europe Tour in 1994.
When arriving in Copenhagen he was asked, if there were certain persons he would especially like to meet. He then replied, that he would like to see me. So I was invited to his secret hideout at the Phoenix Hotel one morning. I brought along my younger friend Gorm Transgaard for the occasion, and I simply don't remember what we were talking about, since we were both baffled by the uniqueness of the situation. We were painfully aware that this would probably be a once in a lifetime opportunity, which of course it was. Therefore we would very much like to have a photograph taken with him and us, but we dared not reveal ourselves having such a fanlike attitude! But we were saved from a dismal outcome of this moral conflict when Barks finished our session by asking if HE could get a picture taken to commemorate our meeting? This broke the ice, and Gorm brought forth his camera as well, so we could walk out with this memory on film together with a couple of signatures! The photograph was included in the issue of Carl Barks & Co after the visit, where we compiled essays from writers from each country of his tour. This late issue got sold out, maybe it was because it was written in English.




TØ: Any other good stories at the end of this?

FM: Well, I recommend a visit to my homepage, where in June I will submit an update as heavy as the one I made as a gift to my readers last year celebrating my 60 years jubilee. The entry, English Stuff, will then include two - three hundred pages of comics in English as well as articles and comments and English language videos. It will take several hours to consume all that, and I am sure there will be a number of laughs to go with it as well…


home