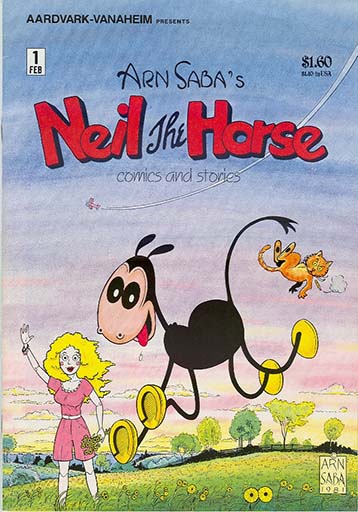 NEIL THE HORSE
ARN SABA
Arn Saba, Katherine Collins (b. 1947, Canada) born Arnold Alexander Saba Jr., is a Canadian cartoonist and the creator of Neil the Horse. Born in Vancouver, British Columbia, Saba attended the University of British Columbia, where he created his first comic strip, Moralman, for the campus paper The Ubyssey. In the late 1960s, he dropped out of school and focused on a career in the arts, venturing among others in experimental filmmaking and the creation of children's books with Gordon Fidler.
Between 1974 and 1977 he was Art Director for Pacific Yachting Magazine, while he was also a part of the avant-garde stage group Circus Minimus. He settled in Toronto in 1977, working as a producer and comedian for CBC Radio and as a writer of pop-culture topics for magazines.
Saba's comic Neil the Horse started as a weekly strip in Canadian newspapers from 1975 to 1982. A collection of 15 comic book was published by Aardvark-Vanaheim/Renegade Press from 1982. The comic featured Neil the Horse, Poupee the Doll and Soapy the cigar-smoking cat in a world full of adventure, song and music. Each issue of this whimsical series incorporated songs and included lyrics and a music score. The series lasted until 1988, and there is also a completed 64-page 'Neil the Horse' graphic novel as well as a children's book, as yet unpublished.
In 1993, Arn made the transition from a man to a woman, and changed her name to Katherine Collins. She dropped cartooning and lived in San Francisco from 1990 to 2005. She created a book about the spiritual and personal experiences of her journey. Despite the difficulties, she says, 'Yes, everything is much better when you're a woman.'